HECY3015- 650W 3000mm*1500mm CE cnc Laser Metal sheet Cutting Machine

| | |
| --- | --- |
| Model | HECY3015-650W |
| Medium of laser | Nd: YAG |
| Laser output power | 650W |
| Cutting area(mm) (length×width) | 3000mm×1500mm |
| Max cutting speed(m/min) | 8 m/min |
| Cooling way | Water cooling |
| Pulse repeted frequence | 0-300Hz |
| Min line width | 0.15mm |
| Cutting depth | 0.2--8mm (up to the material) |
| Laser wavelength | 1064nm |
| Working power | 380V/50Hz/60A |
| Continuous working time | 24 hours |
| Weight | About 3000kg |
| Dimention(mm) | 4400mm×2480mm×1590mm (length×width×height) |
Product Description
HECY3015- 650W 3000mm*1500mm CE cnc Laser Metal sheet Cutting Machine is special for cutting metal materials with high precision, which adopts the most sophisticated Germany IPG laser and double driver, advance laser technology, computer control technology and high-performance CNC laser power system to process all kinds of metal sheet at high speed, high accurate, high efficiently cutting.
HE YAG laser cutting machine advantages
1. Adopt advanced Russian solid laser core technology, good optical model, stable performance.
2. High efficiency of photoelectric conversion, which is twice that of demestic laser source.
3. Little heat of laser source, only need 5P water-cooling machine, saving electricity.
4. Gantry flying light path design, light operation, which can save about 40% electricity more than laser lines.
5. Achieve a perfect cutting effect by only blowing compressed air during processing, which can largely reduce costs of auxiliary gas such as Oxygen,Nitrogen about tens thousands RMB.
6. Equiped with automatic fuel loading system, which make the machine tool running more stable.
Applicable Materials for cnc Laser Metal sheet Cutting Machine

1. Stainless Steel
2. Carbon Steel
3. Alloy Steel
4. Spring Steel
5. Iron

6. Aluminum
7. Copper

8. Silver
9. Titanium
10. Other material please contact us.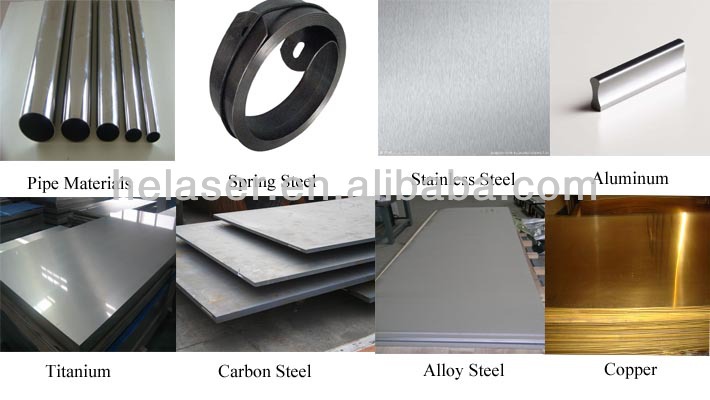 Applicable Industries for cnc Laser Metal sheet Cutting Machine

1.Sheet metal fabrication
2. Electrical cabinet
3. Elevator
4. Automotive parts
5. Aviation & aerospace
6. Lighting lamps
7. Metal carfts & decoration

8. Hardware tools
9. Advertising
10. Furnitures

11. Kitchenware equipment

12. Fitness equipment
13. Medical equipment

14. Agricultural and forestry machinery
Cutting Process for cnc Laser Metal sheet Cutting Machine
Excellent Optical System for cnc Laser Metal sheet Cutting Machine
Auxiliary Equipment for cnc Laser Metal sheet Cutting Machine
Protecting Machine for a long term's operation.
Standard Equipment
1.Centrifugal Blower
Low-noise centuifugal blower could reduce metal dust pollution caused by metal processing, to protect the employee's from get harmed.
2.Water-cooling Machine
Standard water-cooling machine with small power, low consumption and high performance. Small power water-cooling machine will be effective due to the excellent performance of sheet metal fiber laser cutting machine and the high photoelectricity conversion efficiency.
Optional Equipment
1. Air Compressor
Optional air compressor blow and compress air during the cutting process, which can greatly reduce the using cost.
2.Air dryer, Filtering Storage Tank
Regrigerated compressed air dryer and filtering storage tank can remove water and most impurties in the air, which is the best post treatment equipment for air compressor. It can stablize the pressure of compressed air and make sure the best cutting effect.
3.Special Cutting Parts for Pipe Materials
Equip with the special gripper for cutting pipe, which can drill with intersecting line and cut off the cylindrical metal pipe, and the pipe cutting diameter area is from 20mm to 250mm, which is good for broadering the utilization ratio of equipment.
Our Services
Installation and Training
Our technician is available to your factory and offer training for your operators to use our machines. As well, you may send your technician to our company to learn how to operate machines for free.
Quality Guarantee
We arrange final test before shipment. We run the machine in factory for a few days, and cut materials to test the performance.
Operating guide
Specification for machine and software will guide you to use the laser cutting machine properly, which can extend lifespan and reduce energy consumption.

Machine maintenance&Warranty
The whole set of machine warranty period is 1 year. (From the date on the B/L)
Company Information
Wuhan HE Laser Engineering CO., Ltd. is a sino-foreign joint venture registered in Optical Valley of China in Wuhan in 2008. It is the science and technology cooperation between governments of the People's Republic of China, commonwealth of independent states (CIS) and eastern European countries. With a R&D team which is leading by Russian senior experts specializing in laser research and development, we have succeed in developing laser cutting equipments with excellent beam quality, high electro-optical conversion efficiency, high stability as well as low maintenance cost. HE Laser has gained 28 patents of invention, utility model patents and design petents, which is taking a leading position home and abroad on laser technology.
HE laser cutting machine are not only best-selling domestic but also sold to Germany, Britain, Russia, Chile, Argentina, South Korea, Singapore, India, Thailand, Taiwan and other 25 countries. In line with the business philosophy of sincerity, quality and innovation, HE Laser will constantly increase customer satisfaction. Join hands with HE Laser, get accomplishments for you and me!
Our Factory
Our Exihibition
Our Employee
Certifications
HE LASER got the CE Certification.
Obtained Spring Canton Fair CF Award.
Got the "High New Technology Enterprise"title.
HE Laser cutting machine obtained 28 patents.
Five laser cutting machine softwares obtained copyright.
HE laser's Russian technical expert was awarded"Chime Award".
Got "China Red Star Design Award" for Yag laser cutting machine and fiber laser cutting machine.
Awarded "Technology Leader" for "High Performance Pulse Solid Laser Cutting Machine".
In the 13th China International High New Technology Achievement Fair, HE got "Excellent Product Award".
FAQ
Q1. Trade company or manufacturer?
A: We are manufacturer, welcome to visit our factory!
Q2. Is it easy to operate for the new user ?
A: It is very easy ,we offer you operating video ,also our aftermarket technician can help you via MSN ,Skype teamviewer etc.
Q3. What should I do when the machine is in trouble?
A: Make sure all the wires be connecting well ,and keep your lens and mirrors clean(only for Yag laser cutting machine) ,then check your laser tube and share details with us.

Q4: How long does it take to learn how to operate a laser cutting machine?
A: If you are able to use some basic graphic design software, it will only take a few hours, some simple tests on different processing materials are required to learn how to adjust the speed and laser power.
Q5: Is it harmful to human body when in operation ?
A: It is not harmful, as long as the laser won't shoot the skin and eyes directly.
In order to provide a better offer for you, please let me know your requirements as below:

1) What's the materials you want to cut ?
2) The thickness of each cutting materials? max/usual thickness.
3) What's the size of metal you want to cut ?
4) What is the final products ?
5) Are you end user or machine distributor?
HE LASER provides the professional sheet metal cutting solutions for you. Click "Send " bellow to get more information about HE laser cutting machine!